Cora Duncan Walls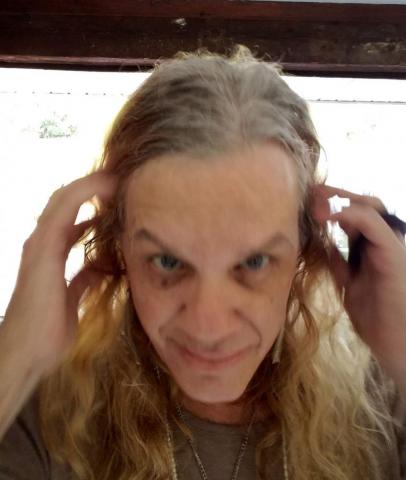 Bio:
I hosted my first radio show over Christmas vacation when I was 15 in 1966 on WITR, thanks to my father being the station advisor. Since then I've done college radio on WMUH (Muhlenberg College in Allentown, PA}, WITR (Rochester, NY) & WRUR (Rochester, NY) in the 1970s, 1980s and 1990s as a student and community staff DJ..
I worked in Record Stores from 1971 to 1998 as a clerk, buyer and walking encyclopedia of musical history.
I've been a performing musician since 1966, singing and playing guitar and keyboards (piano, organ & synthesizers). I also play bass, mandolin, ukulele, accordion, harmonica and percussion to varying degrees of success. More a musician than a virtuoso, I have performed as a solo act, in duo and trio formats, in a supporting role for others and the lead singer and band founder, arranger, director & spirit of several bands over the years. Currently working on a solo project, recording in basement studio using a multitrack recorder to document my original songs and selected cover songs.
I've been a record Collector from 1954 to present. I have owned over 250,000 records in my lifetime, literally covering all eras of recorded music. At the height of my collection I had over 25 distinct divisions & genres represented.
The Hearing Aid is an attempt to document at least a portion of the music I have discovered and continue to find in my never ending search through online sources, thrift shops and my own extensive archive. I have over 7 Terra Bytes of music on my computer (approx 1,000,000 songs give or take a few), 15,000+ CDs, 10,000 LPs, 5000 cassettes, 3000 45s and 1000 78s.
It's a lot to consider in an hour long show. from time to time I have been able to do 2 hour shows, which I relish. In the meantime I will live with presenting about 15 songs every hour I am on the air.
https://streaming.wayofm.org/airchecks?file=
2020-06-11-Thu-1300.mp3
2020-06-11-Thu-1400.mp3
2020-06-04-Thu-1300.mp3
2020-05-28-Thu-1300.mp3
2020-05-21-Thu-1300.mp3
2020-05-14-Thu-1300.mp3
2020-05-07-Thu-1300.mp3
2020-04-30-Thu-1300.mp3
2020-04-23-Thu-1300.mp3
2020-03-26-Thu-1300.mp3
2020-03-19-Thu-1300.mp3
2020-03-12-Thu-1300.mp3
2020-03-05-Thu-1300.mp3
2020-02-27-Thu-1200.mp3
2020-02-27-Thu-1300.mp3
2020-02-20-Thu-1200.mp3
2020-02-20-Thu-1300.mp3
2020-02-13-Thu-1200.mp3
2020-02-13-Thu-1300.mp3
2020-02-06-Thu-1200.mp3
2020-02-06-Thu-1300.mp3
2020-01-30-Thu-1200.mp3
2020-01-30-Thu-1300.mp3
2020-01-23-Thu-1300.mp3
2020-01-16-Thu-1300.mp3
2020-01-09-Thu-1300.mp3
2020-01-02-Thu-1300.mp3
2020-01-02-Thu-1400.mp3
Shows Hosted